Quartet FATA MORGANA (Netherlands)
The members of the two-time world champion, the world-famous harmonica quartet "Fata Morgana" are:
• Antal van Acquoy
• Ronald Kamminga
• Paul Cornelissen
• Rob Jannsen
Fata Morgana was founded in 1980 by four members of the Eindhoven Harmonica Club (EMC). Initially, they performed at orchestral concerts, but as early as 1982, the quartet began to perform independently. To date, they have performed more than 400 times in Europe, the United States and Asia, including twice in Estonia (2002 and 2010). The quartet creates, by the use of four harmonicas and its own sound equipment, a beautiful and full sound. The ensemble plays different types of music – classical, swing, pop and blues. All arrangements are written exclusively by the members of the quartet. The quartet is a frequent main guest at international harmonica festivals around the world, where members of the ensemble also participate in the work of the jury or are the organizers of the workshop. They share how they put together their own arrangements, how they get their sound and what life is like on the road for a touring harmonica group. They have released six albums, with their latest one in 2017 including four guest harmonica players from across Europe. "Fata Morgana" – a great musical intermezzo!
Fata Morgana recordings:
• 1985 MC "Fata Morgana"
• 1989 MC "Four Brothers"
• 1996 CD "Way To Your Heart"
• 2000 CD "For Once In My Life"
• 2006 CD "Struttin 'With Some Harmonica"
• 2017 CD "4 Firends"
o Spotify, Deezer and Apple Music.
DUO AFFINITÉ (France)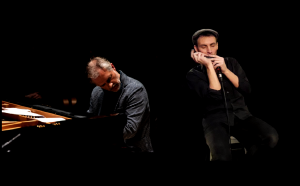 Duo Affinité was born from the encounter between the piano of William Lecomte and the harmonica of Antoine Le Roux. These two musicians are characterized by an eclectic taste in classical as well as improvised music. Together they create a colorful show that mixes romantic works, jazz and genre music (Argentine tango, film music, gypsy music). William Lecomte's original settings also allow classical works to be rediscovered in a new light and offer musicians great musical freedom.
WILLIAM LECOMTE
After studying classical harpsichord, piano and harmony at the Poitiers Conservatory, he turned to jazz under the influence of François Couturier and Bernard Maury. He created "Pastel", which won the first prize for the best ensemble and composition of the Festival de la Défense in 1985 and the first prize at the Festival de Souillac. He has accompanied Jean-Luc Ponty on international tours for 21 years, as well as Marc Berthoumieux, Vaya Con Dios, Hervé Meschinet, Majda El Roum, Nigel Kennedy and many others at Carnegie Hall, Royal Albert Hall, Blue Note Milan and Sala-Kongresowa in Warsaw.
ANTOINE LEROUX
When he was 7, Antoine began studying the chromatic harmonica. His mentors, Michel Perraud and Pierre Couteau, taught him to rigorously practice the instrument. Already gifted with a natural musical sensibility and an exceptional ear, he quickly improved. To such a point that he became a 5-time laureate of the National Harmonica Contest. In 2003, he participated in the International Festival "Rosa Vetrov" in Moscow, where he won the First Prize. Constantly personalizing his expertise and the exceptional quality of his sonorities, in 2005 he took part in the International Harmonica Festival of Trossingen (Germany), where he was awarded the Title of World Vice Champion. Since then, Antoine has performed at international festivals in Germany, Belgium, Spain, Estonia, Slovenia and Russia. Antoine has been teaching chromatic harmonica in Paris since 2012. His harmonica lessons are open to beginners as well as more experienced harmonica players.